The Gung-Ho Technology Difference
At Gung-Ho, we know having the best technology is a key difference between success and failure. For nearly 40 years, our IT team has been at the forefront of virtually every major e-commerce and on-demand publishing technology in use today. And, since 1999, our innovative GENIE technologies have provided our clients, customers, and suppliers with competitive advantage they cannot get from any other company, anywhere, period.
GENIE Technologies Overview
GENIE, the "Gung-Ho Enterprise Network and Information Exchange," is Gung-Ho's powerful and award-winning information system that seamlessly integrates e-commerce, digital content delivery, and worldwide physical product manufacturing, fulfillment, and distribution.
Our GENIE system includes GENIE components like GOLD, the "Gung-Ho On-Line Data" application, which is a browser-based secure Web portal to GENIE; and Go Technologies which are add-ons that extend or add new functionality and features to GENIE's open architecture.
Secure In The Cloud Since 1999
Since its launch in 1999, GENIE has been maintained in Secure SAS 70 Type II Certified Data Centers that provide 99.9% system availability, rapid scalability, redundancy, and no unauthorized system access.
E-Commerce & Web Stores
GENIE was designed from the beginning to integrate with client and third-party Web Stores and order management systems. Gung-Ho also offers totally-free Web Stores that clients can brand with their name, logo, and favicon.
Digital Content Delivery
Digital content delivery, including downloads and streaming, can be integrated to make sure that all delivery – both digital and physical – is seamless, consistent, and simultaneous regardless of the format.
Physical Product Fulfillment
Beyond being a rock-solid information system, GENIE is a complete production tool that ensures no detail is missed and that all physical products are successfully manufactured and shipped on time and on budget.
Capacity & Accuracy
Monthly production capacity exceeds 100 million printed pages, discs and other media, including packaging and assembly, that ship with a 99.99% order fulfillment accuracy.
Order Processing Overview
Monthly Order Capacity for More Than 100 Million Printed Pages, Discs, and Packaging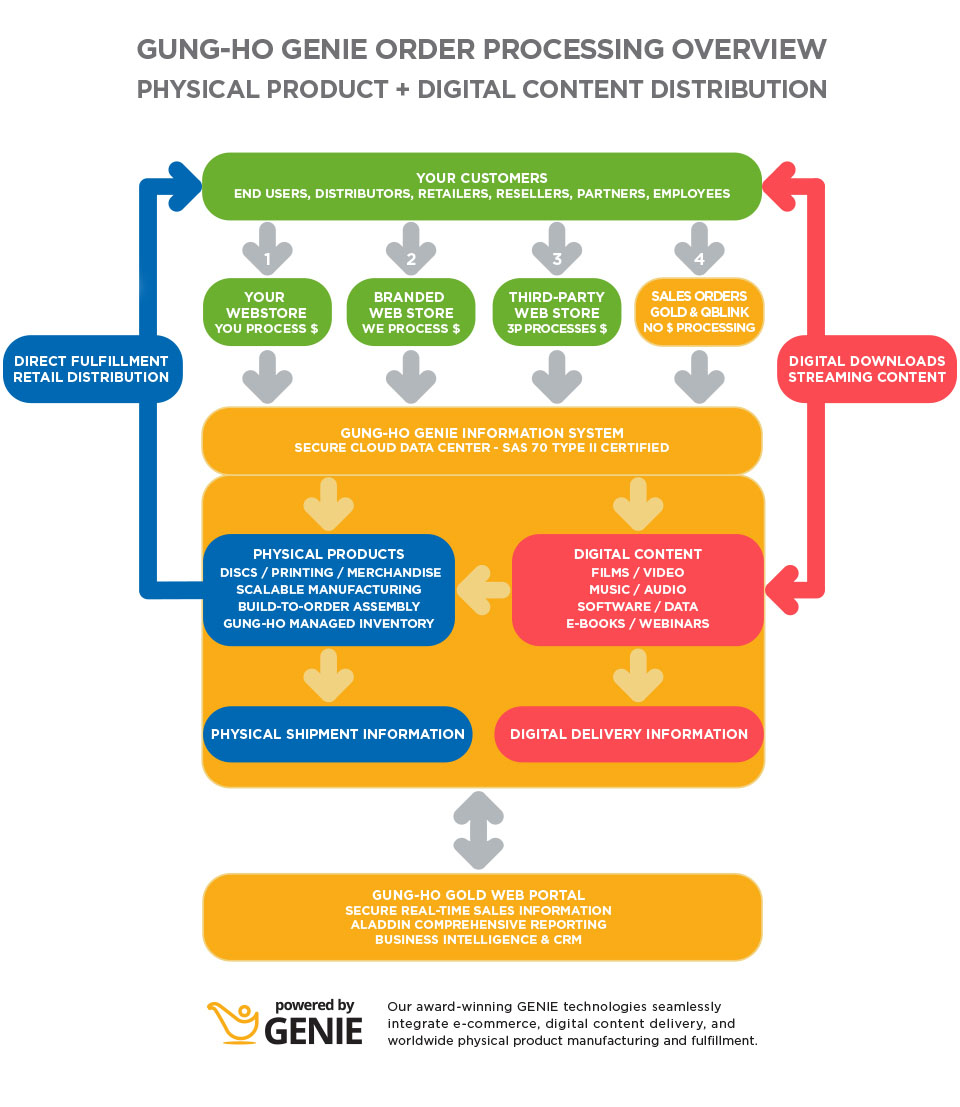 A JOB WELL DONE. When the job was completed, Block informed Gung-Ho that it was missing shipment confirmation data on only 5 packages of the nearly 2.5 million that had been shipped. Gene Goldenberg, Block's senior vice president, software and e-commerce, calls this performance "remarkable."
Speed-to-market for time-sensitive printing, packaging, and media products is one of the benefits that the Gung-Ho Company brings to its clients.
Key Benefits [include]... Streamlined operations through universal access to centralized order fulfillment system.
Gung-Ho's exemplary performance in delivering for Block, as well as for the rest of its clients, which include Microsoft Business Solutions and Siebel Systems, can be directly linked to the amount of attention it pays to what some might consider small details.
Over the years, Gung-Ho has gained a reputation for its positive – one might even say "gung-ho" – attitude about doing whatever it takes to meet its clients' needs.
Want A Personal GENIE Demo?