PDF File Preparation Guidelines
What You Do / What We Do
You simply upload one 8.5″W x 11″H PDF file and we do the rest.
Our automated system requires a single PDF file with an 8.5″ x 11″ page size. If you have another type of file, please convert it to the PDF format. If you have more than one file, please combine/merge them. If you have a file that is not an 8.5″ x 11″ page size, please adjust it to the proper size. In case you miss one of these three items, our system will prompt you with a message letting you know what it needs.
Here's what we do automatically to the file you upload:
Enlarge your 8.5″ x 11″ full-size artwork by 2% so it bleeds off the edges of the covers and pages for borderless printing. This feature can be disabled by selecting "Print As Is," however, not enlarging your artwork may result in small white borders on the edges. See our Cover & Page Layout below.
Copy the first page of your file and use it for both the front cover and page 1 of the contents. This feature can be disabled by selecting "Use First Page." We will then use the first page of your file for the front cover and the second page of your file will become page 1 of the contents. See our Cover & Page Layout below.
Rotate your landscape pages (except page 1 which becomes the front cover) 90 degrees counterclockwise to a portrait orientation.
Provide a print-ready Preview File for you to review and approve before you submit your order.
PDF File Preparation Help & Tips
What Is A PDF File?
PDF (Portable Document Format), created by Adobe Systems Inc. over 25 years ago, is the standard file format for document exchange. PDF preserves document formatting and enables file sharing. When your PDF file is viewed online or printed, it retains the format you intended and that is why we use it for our automated printing process. If you want to learn more about PDF files, download Adobe's free PDF Reader, or download a free trial version of their Acrobat PDF creator, click here.
Converting Word, Excel, And Other Program Files Into PDF Files
Many programs, including Microsoft Office 2010+, already have the ability to easily convert its native file format into a PDF file by using a Save As PDF feature. To check your program, open your file, click "Save As," and if "PDF" is listed, select it and you're done. If you don't have this ability, you can:
Download a free Save As PDF add-in for Microsoft Office 2007, or
Download a free third-party PDF converter tool such as PDFCreator or PrimoPDF. Important: Only download the basic free tool and not any of the other products they offer even if they are free.
Combining/Merging Multiple PDF Files Into A Single PDF File
Multiple PDF files can easily and quickly be combined/merged into a single PDF file using the free FoxyUtils MergePDF utility.
Important File Tips
Embed Fonts – Very Important: If available in your PDF Settings, select "embed all fonts" to ensure they are applied (especially if they are custom or non-standard fonts). Otherwise, we may have to substitute fonts for those you originally used in your file.
Image Files: The optimal resolution for an image is 300 DPI and it should not exceed 600 DPI.
Flatten Your File – Very Important: If your file was created with layers, make sure to flatten your file before you upload it.
Review Your Final File: Thoroughly review every page of your final file before you upload it.
Review Our Preview File: Thoroughly review our print-ready Preview File prior to approving it and submitting your order. Orders cannot be changed or canceled after they are submitted to our fully-automated production process.
Printed Samples/Proofs: To be safe and avoid costly errors, we strongly recommend that you order a printed sample and use it as a proof to carefully review your work before you order a large quantity.
Cover & Page Layout
Binding Edge: Make sure to allow a 0.375″ margin of "non-live" artwork on the binding edge. For perfect binding, that is the gutter area for all the pages. For coil binding, that is the drilling and binding area for the covers and all the pages.
Borderless Printing: If "Print-To-Edge Borderless" printing is selected, your full-size artwork will be enlarged by 2% to create bleeds, printed on oversized sheets, and trimmed to the final size to achieve borderless printing (no white borders).
Example: 8.5″W x 11″H Final Trim Size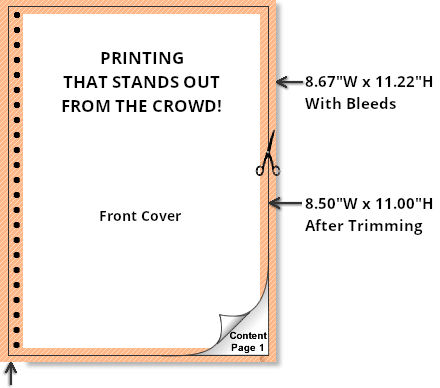 Binding Edge: Allow a 0.375″ margin of "non-live" artwork.